In B2B, it is important to build your site on a platform that can maximize your sales and revenue. You'll find many e-commerce platforms and plugins out there, but not all of them have the same capability of enhancing your results and helping you reach a wider market.
Enter WooCommerce, a free, open-source e-commerce platform that allows you to intuitively sell products online, no matter the order size. It is one of the most popular eCommerce platforms, with 29% of websites using it to power their online stores, and it is used by both small online stores and large B2B businesses. Its flexibility also makes it a great choice for building and managing wholesale transactions.
In this article, our WooCommerce development experts will walk you through the basics of setting up your WooCommerce B2B wholesale store and introduce you to the best WooCommerce b2b plugins.
What Is Business-To-Business (B2B) E-commerce?
Business-to-business (B2B) eCommerce is a form of business that allows companies to sell products and services to other companies, without dealing with the customer directly. Your B2B clients can then use your products to create a final product or resell your items to their own customers.
Wholesale businesses are a subset of the B2B market, selling products in bulk to other companies, and occupying a large space of the market. In fact, according to TradeGecko U.S. wholesale alone is currently an $8.3 trillion industry.
When we talk about B2B eCommerce specifically, we refer to an online store where you can purchase products or services from a company that will deliver them directly to another company, with all transactions taking place online. The B2B eCommerce model is also referred to as "enterprise" or "channel" e-commerce because it allows businesses to sell directly to other companies rather than consumers.
How Are the Needs of a Wholesale Business Different?
As we've previously established, business-to-business eCommerce is a subset of eCommerce that focuses on selling products and services to other businesses. As such, their websites tend to be more complex than their B2C counterparts because they need to handle more complex transactions, including:
Transactions that involve multiple parties.
Accepting a variety of payment methods.
Providing a wide range of shipping options according to their client's needs.
Offering different pricing for both regular and non-regular users with special pricing or discounts for specific users.
Using various types of registration forms for different types of businesses.
Offering validation of VAT or other types of taxes and support and exemption.
Is WooCommerce a good platform for a wholesale business?
WooCommerce is an excellent platform for e-commerce businesses of all kinds, but it is mighty for B2B and wholesale. It is a full-fledged platform with the necessary tools to run an online store.
Creating a B2B store on WooCommerce is very simple and easy to use. You can set up your store within minutes without coding knowledge or technical expertise.
WooCommerce lets you connect your store with other marketplaces and platforms using their API keys. The backend admin panel comes with many pre-built pages that you can use to display information about your products or company. You can also create custom pages using custom templates. In addition, accept payment from all major credit cards and add other different payment gateways to fulfill your business needs using WooCommerce without any restrictions.
Moreover, you can use WooCommerce's powerful B2B and wholesale extensions to access different shipping options, tiered pricing, private client stores, dynamic pricing, and other essential features for wholesale vendors.
Ultimately, WooCommerce provides you with flexibility and a wide range of tools for managing orders and shipping costs
WooCommerce B2B Themes and Plugins for Wholesale
If you want to sell bulk items to customers, you will need to make sure that you can handle the volume of orders. You will also want to consider whether or not you need extra features like order tracking or inventory management. Thus, suitable themes and plugins are critical to thriving your store.
Here is our list of recommended themes and plugins for setting up Wholesale business on WooCommerce:
Best Wholesale Themes for WooCommerce B2B
When it comes to finding the best wholesale themes for WooCommerce, there are many different options.
When setting up your wholesale business with WooCommerce, we recommend using a theme that seamlessly integrates with the plugin and its features, is regularly updated, compatible with any plugins you'll be using to run your B2B online store, and offers a variety of professional page layouts or templates.
We have compiled a list of some of the most popular and well-known wholesale themes for WooCommerce.
From learning to e-commerce, Astra is always a good choice. It is also one of the best options for your wholesale WooCommerce site as it seamlessly integrates with this e-commerce platform and is fast and lightweight. Astra also makes it easy for anyone to design a professional-looking site thanks to its many prebuilt website options. However, it also provides you with the flexibility of using custom code or enlisting the help of a WooCommerce development agency to customize the theme for your wholesale site.
Astra is also fully compatible with Beaver Builder, Elementor, and Gutenberg blocks and optimized to bring your site maximum speed.
Storefront is WooCommerce's official WordPress theme and is available for free. It is specially designed with WooCommerce in mind, meaning it will always work seamlessly with WooCommerce's latest updates and its official extensions.
Additionally, the theme is fully responsive and comes with multiple display options and an e-commerce-focused home page. If you want to take it a step further you can enhance Storefront with multiple extensions which will provide you with additional e-commerce and design options, improving your customer's experience and checkout process.
Not only does Flatsome fully integrate with WooCommerce, but it is also light, fast, and easy to customize. It comes with a convenient page builder, a huge page element library, and multiple pre-built page layout options available through the Flatsome Studio. Additionally, store owners also have access to a wide range of mockups, starter pages, and one-click import demo content. Furthermore, the theme is fully mobile responsive and supports over 12 different languages.
Currently, you can purchase a regular license for this plugin for 59.00 USD, including 6 months of support.
Best Wholesale WooCommerce B2B Plugins
WooCommerce Wholesale plugins are the best solution for a wholesale store.
We will show you some of the best WooCommerce B2B Wholesale plugins to help you run your business and get more sales.
WooCommerce Wholesale Pro is a premium extension for WooCommerce that allows you to manage wholesale orders, create and manage your wholesale catalog, and sell to B2B clients.
Selling both to regular customers and wholesale clients? Worry not! This WooCommerce extension allows you to create a hidden wholesale area for your online store that is exclusively available to your wholesale clients. This area allows you to set a minimum order amount for each purchase and has its own registration, pricing, and user roles, facilitating the management of your wholesale business. You can set up different prices, discounts, and delivery options for each customer. If needed you can disable taxes and discount codes for wholesale users and even enable separate payment and shipping options for this type of order.
Let's take a look at the features you'll get with this WooCommerce extension:
Add unlimited categories and products with wholesale prices for each product.
Use global or category percentage discounts.
Enable wholesale buyers to register and automatically convert their existing customer accounts to wholesale.
Offer discounts and coupons automatically based on customer groupings or products in the cart.
Hide your wholesale store area from your public WooCommerce store.
Set minimum order amounts
Enable or disable taxes and discount codes for wholesale orders.
Pricing: WooCommerce Wholesale Pro is available for just $99 for a single site.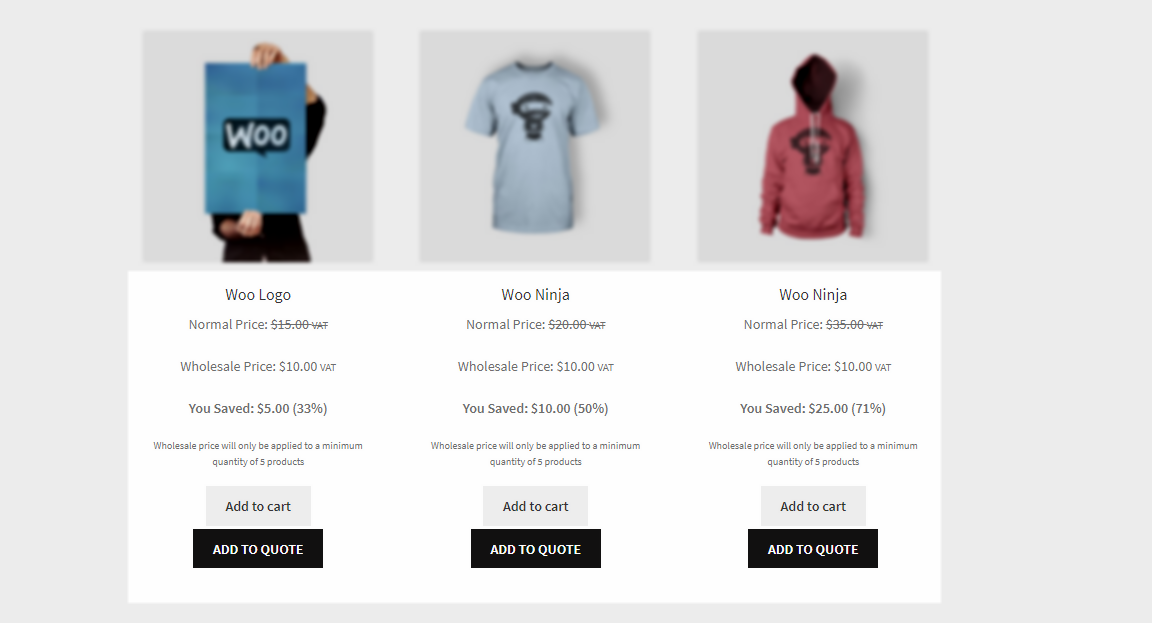 Wholesale for WooCommerce is WPExpert's popular wholesale plugin designed to help you manage both B2C and B2B business operations from a single site. According to its more than 70 positive reviews, it has great and fast support, is easy to use, and works well.
Here are some of this plugin's key features:
Create a private password-protected wholesale store for your wholesale clients that is hidden from the public.
Hide prices and products on your wholesale store from guest users.
Add custom user roles with role-based pricing and discounts.
Set a minimum or maximum order quantity for each of your products.
Used the plugin's wholesale registration form with custom fields instead of WooCommerce's default registration form.
Create tiered pricing structures for wholesale which you can apply globally or set specific rules for products, categories, and simple and variable products. You can also set different minimum purchase quantities for each list.
Add custom payment methods for wholesale user roles with the possibility of exempting certain user roles from taxes.
Pricing: 99.00 USD billed annually
B2B for WooCommerce is a premium WooCommerce plugin that will help you create your B2B marketplace. It allows you to create and manage multiple products with different prices for each customer and even delivery options.
The plugin works with the standard WooCommerce order management system and integrates seamlessly into your store.
Here's some of what you can do with this WooCommerce plugin:
Create personalized product listings and variations with customer specific pricing.
Set up tiered pricing or volume-based pricing feature on your wholesale store.
Customize user registration forms for multiple roles with manual review and approval.
Configure multiple payment and shipping methods allowing you to enable or disable options for each user role.
Hide products and categories from specific user roles.
Hide prices and display a "request a quote" button instead of the regular "add to quote".
Pricing: 149.00 USD billed annually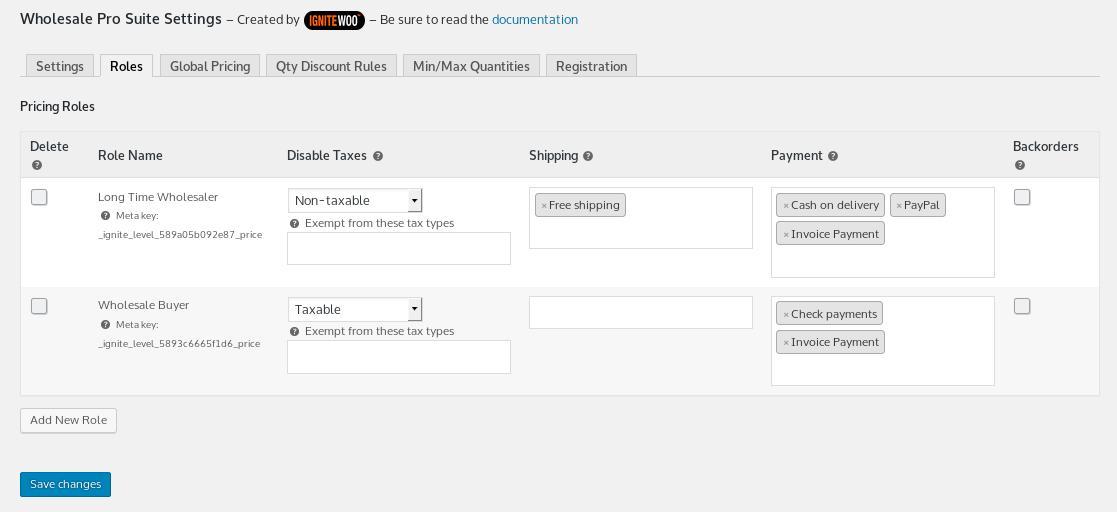 WooCommerce Wholesale Suite Pro is a powerful WooCommerce extension that helps you run B2B operations and sell wholesale products on your WordPress eCommerce site.
It comes with a robust inventory management system, order management system, and many wholesale pricing options. The extension also comes with an order reports feature which you can use to analyze your sales performance.
Here are some of the other add-on's key features:
Apply discounts based on minimum quantity requirements.
Hide your wholesale products or variations from retail shoppers and vice versa.
Offer different wholesale pricing options for different custom user roles.
Optionally exempt specific customers from taxes and select which payment methods are available to each user role.
Apply discount rates and coupons per customer group or for all customers.
Use the built-in invoice payment option for customer checkout.
Selectively choose which shipping methods are available to your wholesale buyers.
Pricing: 149.00 USD billed annually for a single site license.
The Wholesale Market extension for WooCommerce allows you to build a wholesale market online and easily manage products, customers, and orders.
Bellow, you'll find a list of the extension's wholesale features:
Set minimum quantity requirements for wholesale orders.
Create a wholesale customer user-roles with exclusive access to wholesale prices.
Hide wholesale prices from your regular retail customers.
Additionally, the extension works with four different wholesale market premium add-ons, which gives you access to extra features. While the extension is available for free, these products have prices ranging between $49 to $69.
Let's take a quick look at each add-on and their key features:
Wholesale Market Product Add-on is a powerful extension for WooCommerce that only costs $69, enabling users to set wholesale prices for multiple users and take the pricing scheme to the next level using Range Wise Pricing.
Wholesale Market Reporting Add-on gives you a report on your wholesale customers, allowing you to export essential data about your wholesale accounts for only $49.
Wholesale Marketplace Add-on allows you to create and manage subscription plans for your wholesale customers. You can set up different subscriptions for different customers, offer discounts for auto-renewals, and more for only $49!
The Wholesale Market User Add-on allows you to create wholesale accounts and set restrictions for them. You can add users to your wholesale market, customize their roles with different pricing and rules to purchase products, and place orders for only $69.
Pricing: Free
Setting Up A Wholesale/B2B Business on WooCommerce
Setting up an online store is not difficult or expensive. However, you cannot just put up a site, take orders and wait for the money to start rolling in. You need to set up an e-commerce business plan and carefully consider every step of the way.
There are lots of ways to get started and scale your business via WooCommerce. The very basics involve setting up your site and WooCommerce theme, configuring WooCommerce settings, and setting up any extensions or add-ons you'll require to power your wholesale operations. Additionally, you might need to invest in some custom development or plugin modifications to fully tailor your website according to your needs.
Don't know where to start? Whether you need help configuring your online store or customizing WooCommerce's features, don't hesitate to reach out to our WooCommerce development experts.
Final Words
Building a B2B wholesale business is a challenging process. It requires a lot of preparation, planning, and work. But once you have created your store, it becomes much easier to maintain and grow your business. With WooCommerce and the right selection of WooCommerce extensions, you can automate most tasks and focus on selling more products, providing better customer service, and increasing your revenue.
In this guide, we have given you the information you need to start setting up your wholesale business with WooCommerce. We hope you can now feel confident moving your B2B wholesale operations online. If you need additional help setting up your e-commerce store, don't hesitate to reach out. Our WooCommerce development team will get your wholesale suite up and running in no time.