The layout of a B2C eCommerce store is entirely centered on individual customers, their purchasing habits, and experiences. On the other hand, a B2B e-commerce site processes business-to-business transactions and helps companies build transactional relationships with each other. For this reason, B2B sites require a very different business strategy than B2C sites.
Businesses can now address the needs of their online customers by utilizing B2B eCommerce platforms such as WooCommerce. By automatically applying trade regulations, currency modifications, price estimations to orders, and enforcing minimum order requirements, among many other things, a B2B portal can facilitate business transactions on a large scale.
The many advanced eCommerce features available to businesses today expedite, facilitate, and improve the accuracy of complex product orders.
B2B eCommerce site owners have the opportunity to access data and information about how their clients interact with goods and purchasing channels. This data makes it feasible for them to optimize their operations in ways that would not be otherwise attainable.
B2B eCommerce comes in a variety of forms, each with a unique target market and scope.
Let's take a look at some examples of B2B eCommerce:
Manufacturers
Manufacturing companies utilize raw resources for mass production. The manufacturer allows other businesses to place their regular or bulk orders through their B2B websites. Wholesalers and other manufacturers are frequent customers of manufacturers.
Distributors
A distributor acts as a link between manufacturers and other businesses. They buy in bulk from manufacturers and resell to retailers or other manufacturers. It is especially helpful for B2B companies looking to establish an online presence because distributors frequently have established networks of customers who can help enhance the accessibility of manufacturers' products and help drive more sales.
Wholesalers
Distributors or manufacturers sell products in bulk to wholesalers, who subsequently sell them to retailers. They make money by buying the products for less and then reselling them for the full retail price. Both big, renowned brands and smaller companies buy from them frequently.
Considering all of the potential differences, creating a B2B or wholesale website necessitates a high level of technical adaptability in designing business operations like:
Validation of VAT or other types of taxes, support, and exclusion

Registration for documents from various business entities

Factor costs for both recurring customers and guests.

Offer customizable billing and shipping options

Offer support for multiple types of users

Accept and process requests for quotes and forms for bulk orders
Such versatility requires the support of a reliable, customizable, and robust e-commerce solution. WooCommerce is an excellent choice since this eCommerce platform complies with all of these demands.
Due to it being open-source, highly customizable, and impressively popular, WooCommerce gives you the advantage of having access to a variety of technological solutions and custom development possibilities to expand the capabilities of your eCommerce site.
In light of this, this article will discuss some of the top WooCommerce plugins and extensions for building a B2B website.
Why is WooCommerce a Good Solution For B2B?
WooCommerce is a strong, dependable, secure, and time-tested platform. It is capable of managing thousands of products and product variations. Sellers can create unique catalogs using WooCommerce's category and tag hierarchies, which is yet another appealing feature.
More and more commerce is migrating online in the modern era. In the past ten years, we have witnessed it in the B2C industry, and it is now beginning to emerge in the B2B sector as well.
Targeting all requirements of the eCommerce platform and its users, WooCommerce has significantly demonstrated its capability in the B2C market field. Similar to that, WooCommerce has a huge capacity to foster the B2B eCommerce sector.
Building a B2B eCommerce store has been a lot simpler with the help of WooCommerce B2B plugins. Nonetheless, some of WooCommerce's core features are also beneficial for B2B. For instance, using WooCommerce on its own you'll be able to:
Add as many items as you like.

Create as many categories and subcategories as you like for your products.

Set up your store's tax settings, including adding various rates for certain goods or nations.

Add shipping rates to your orders, along with varied postage for various zip codes, regions, or nations.

Obtain notifications about fresh orders.

View performance data for your store, including sales reports and other metrics.

Your B2B customers can browse your products, add items to their online shopping carts, check out and make payments, and register for accounts.
Everything else you might need which is not built into WooCommerce's core software can be easily added to your site using one of the many WooCommerce extensions on the market or through custom WooCommerce development.
For example, the majority of B2B eCommerce websites are private. If you need to keep the general public from learning about your private wholesale prices, you can use a WooCommerc plugin to hide the B2B section of your site and establish a private wholesale storefront experience.
Ready to set up your wholesale B2B WooCommerce store? Below you'll find some tools you should consider.
The Best B2B Woocommerce Plugins
It's crucial to carefully examine the WooCommerce B2B plugins you intend to use when creating your eCommerce site to see if they provide the features your own business requires. Some features to look out for include:
Multiple storefronts

– With some of the best WooCommerce B2B plugins, you will be able to establish a distinct wholesale section on your primary WordPress website, saving you the trouble of managing product duplication or upkeep of numerous domains. This is especially important for businesses practicing both B2B and B2C on their eCommerce sites.

Automated order placement

– A common practice for many business owners is to manually manage wholesale, bulk, and custom orders on their eCommerce sites However, this can quickly become extremely time-consuming and difficult to manage. By incorporating an automated system for placing wholesale orders into WooCommerce, you can save a substantial amount of time for more important tasks. At the same time, it will help you deliver a better customer experience, allowing your clients to quickly and efficiently place orders on your website, without dealing with any red tape.

Customizable registration forms

– Often, B2B eCommerce uses special registration forms to gather important information from the other companies they do business with.
After taking all of that into consideration, here is our selection of the best 10 B2B plugins for WooCommerce (in no specific order).
ELEX WooCommerce Catalog Mode, Wholesale, & Role Based Pricing
Several areas of sales on your WooCommerce B2B store can be managed with the ELEX WooCommerce catalog mode, wholesale, & role based plugin.
The tool is ideal for businesses that have to handle individual relationships with multiple businesses as it allows you to set different product pricing for customers based on their user role and even offer customer-specific discounts.
Additionally, it enables you to restrict access to eCommerce capabilities to authorized B2B customers and eliminate the Add-to-Cart button for ordinary users.
By selecting the customer role, the customer, and the categories for delivering the percentage of discount or a fixed price adjustment, you can provide customized pricing and discounts to your wholesale customers.
Based on user roles, you can assign the preferred tax class and tax display options. You can choose to display prices that exclude or include sales tax depending on the user role, display prices with taxes only on the checkout page, and more.
For particular items and variants, you can also specify position-based pricing and discounts. Additionally, with just one click, the plugin enables catalog mode for your whole store. For extensive B2B shop administration, you may also combine it with the ELEX Request a Quote plugin.
Key Features
Offer B2B customers on your store unique pricing.

Set up catalog mode for your store.

allows for customer-specific pricing.

Set up role-based pricing for certain products and variants.

Based on user roles, the Add to Cart button can be removed and replaced with HTML text.

By switching to Custom text and redirecting to a chosen page, you can change the Add to Cart button's appearance.

Only Regular Prices can be hidden.

You have the option of hiding the Product price.

You can conceal the Cart and Checkout Pages.
Price: $79 for a single site.
Wholesale Suite
A complete wholesale solution, known as Wholesale Suite, is available for WooCommerce B2B stores. Three plugins together make up the suite:
Wholesale Prices Plugin:

It shows distinct wholesale rates with minimum order requirements to inform buyers that they will save money if they purchase in large quantities. On the basis of the quantity ordered, you can also design a pricing structure.

Wholesale Order Form Plugin:

When you scroll, it generates a one-page catalog. Searching and categorizing options are available in the catalog. You have the option to only allow B2B customers to see the wholesale catalog.

Your wholesale customers will be delighted with the effective AJAX feature with a mobile-friendly placement interface of Wholesale Suite's WooCommerce Wholesale Order Form.

Wholesale Lead Capture Plugin:

With built-in anti-spam features, it provides registration, login, and thank you pages. In order to let them access your website's B2B section, it automatically adds authorized users to wholesale positions. To automatically notify admin and customers, the plugin also enables you to generate personalized email templates.

Administrators have the option of automatically onboarding users or using a manual approval procedure. There are also pre-written onboarding letters to get you up and running quickly.
Everything you need for your WooCommerce B2B store is taken care of by the Wholesale Suite, including large volume costing, minimum order quantities, user roles, online forms, shipment and tax, and more.
Key Features
features that are easy to use and function right out of the box

features hooks, comments, and filters that are developer-friendly

It is compatible with other Woocommerce extensions and plugins.

the ability to work with various WordPress themes and plugins

Integrated spam filtering to filter out loyal consumers

Confine the display of products and categories
Price: The annual price for a single plugin starts at $49.50. Bundles cost an annual minimum of $148.50.
WooCommerce Wholesale Pro
An effective B2B plugin, WooCommerce Wholesale Pro is loaded with features that are necessary for all wholesale businesses. It is simply one of the best available solutions on the market for enhancing your B2B business operations.
You can quickly make a custom wholesale eCommerce site or add a wholesale segment to an existing WooCommerce store that is open to the public with the WooCommerce Wholesale Pro plugin.
A wide range of features in this WooCommerce B2B plugin caters to the requirements of B2B site owners. One-page wholesale order forms enhanced wholesale pricing, and the ability to add wholesale customers are a few of them.
You can establish an unlimited number of wholesale positions using the versatility of the WooCommerce B2B plugin, each with its own pricing or exclusive wholesale discount. Additionally, you can specify wholesale prices for specific products as well as establish global or category percentage discounts.
You can also choose to turn off taxes for most or all of your wholesale customers while still charging taxes to public consumers. Your wholesale customers may be eligible for payment options that you do not offer to regular customers.
You can make as many wholesale positions as you'd like, and you can either let new wholesalers self-register via the registration form or manually add them. Given their significant focus on customized order forms, the plugin's bespoke wholesaler interface offers a positive user experience.
Key Features
Options for Wholesale Pricing

Registration for a Wholesale Account

Product Visibility Management

Payment Methods That Are Unique

Customization of Taxes

Display of a versatile order form

Option to 'Hide Price Until Login'

Display of categories

Menus with dynamic navigation

Shipping depending on roles

There are numerous third-party integrations.
Price: starts from $99 billed annually.
B2BKing
For B2B WooCommerce stores, B2BKing is a well-liked specific solution.
From fundamental B2B features like hiding costs for guest customers to sophisticated ones like tiered payment systems, tax relief, VAT processing, and numerous purchasers per account, B2BKing handles it all.
B2BKing includes everything from comprehensive business registration to distinct registration forms for B2B/B2C, customized pricing sections, an invoice form of payment, and negotiated rate offers.
Key Features
Manage the shipping and payment options offered.

control large-scale stock and product sales

Include discount percentages or rules.

Set various wholesale prices for various groups.

On the product page, specify wholesale costs for each unique group.

Manage the payment options available to each B2B group, logged-out users, and B2C users.

Control the delivery options available to each B2B group, B2C users, and logged-out users.

Depending on the role, registration authorization may be automatic or manual and include a review process.

B2B purchasers can utilize purchase lists to replenish or reorder inventories.

The number of groups is unlimited.

The functionality to create a private store.

Order Form for Wholesale Bulk.

Messaging and conversations between the shop and the customers.
Price: A free version is available. The pro version is $179 and includes six months of support.
B2B eCommmerce for WooCommerce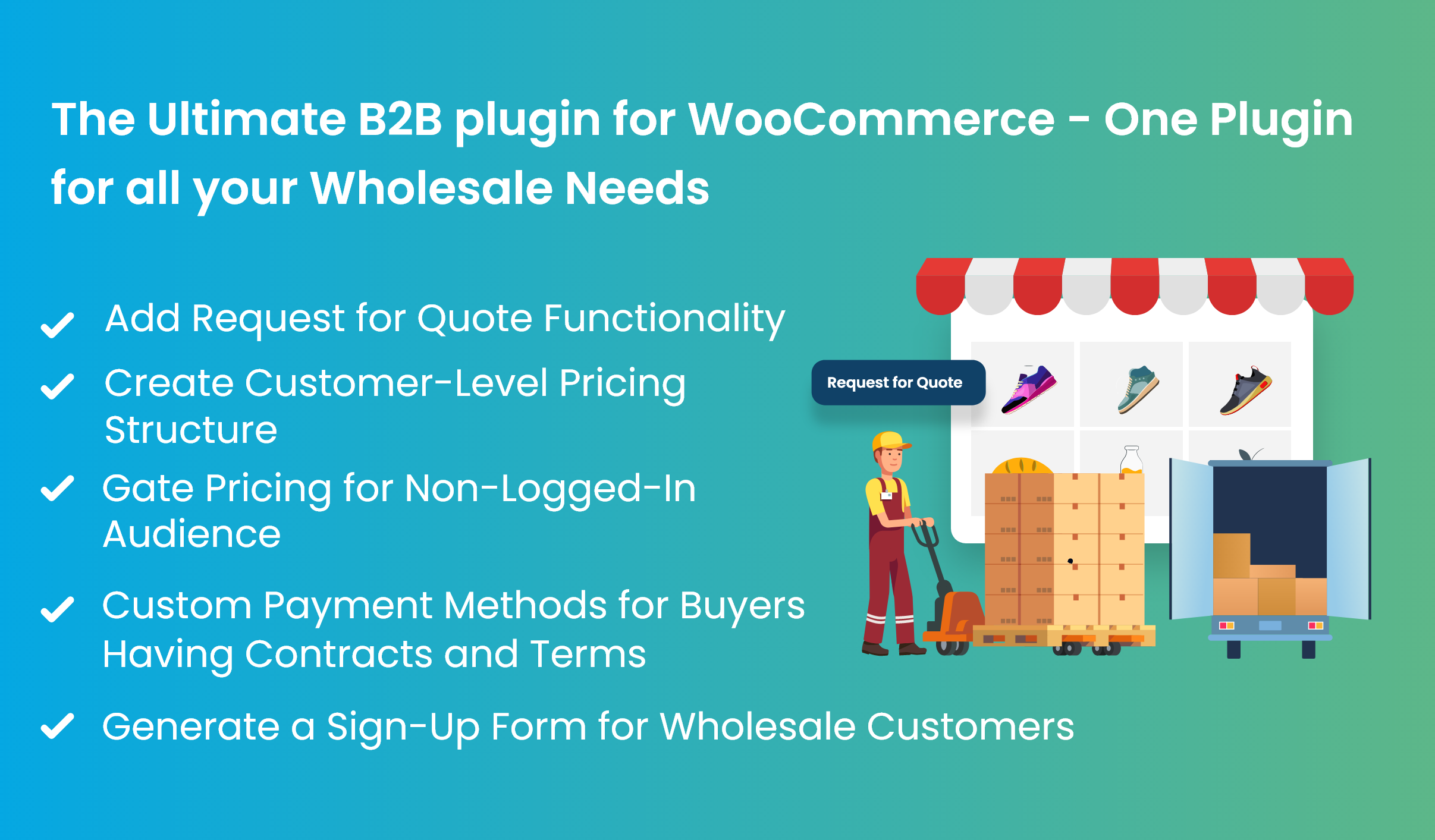 You can manage all the B2B and wholesale requirements for a WooCommerce store with the help of the B2B eCommerce for WooCommerce plugin.
In order to enhance your store and add new features to better serve your B2B clients, this package combines five of the most popular WooCommerce extensions.
Compared to Wholesale Suite and B2BKing, B2B eCommerce for WooCommerce is pretty comparable. You have control over things like registration forms, customized pricing, and visibility for the wholesale products.
The feature that distinguishes this plugin from others is the ability to build a "add to quotation" button that allows customers to choose the products and quantities they require and request your best pricing.
It also has options for creating customized pricing for various customers. Along with features to limit access for visiting users, the plugin also includes options to enable smooth registration for wholesale customers on your website.
Key Features
It helps to give your customers a unique & personalized experience.

manages several facets of a WooCommerce B2B store.

assists customers in adding items to a quote list.

It helps to configure the minimum and maximum order values.

Allow simple registration for wholesale customers.

Depending on the user roles, you can display or conceal categories, prices, products, and lots more.
Price: $99.
Beeketing
With marketing automation and more advanced features, Beeketing enables you to boost B2B sales. It includes 10 or more robust extensions that let you expand the features and capabilities of your B2B store.
Once installed and enabled, Beeketing works with WooCommerce effortlessly. The user experience is completely designed for you and your customers on all devices. It includes real-time reports that are simple to follow so you can analyze and optimize campaigns like an expert.
To cross-sell products, you can provide customized suggestion slideshows on all pages. Additionally, the plugin enables you to automatically send targeted follow-up emails and launch campaigns using sophisticated customer segmentation.
Key Features
Send out automated retargeting campaigns

Analytics and reports that are updated in real-time

Exit-intent promotions are made to entice clients to complete their orders.

Features that cross-sell and upsell products to boost average order value
Price: Get started for free. Extension fees begin at $19 per month.
Wholesale For WooCommerce
Using the wholesale for WooCommerce plugin is an easy and efficient way to manage B2B and wholesale businesses. Store owners will be able to manage both B2B and general retail sales.
WooCommerce stores can design and manage wholesale pricing plans across several tiers with the help of the Wholesale for WooCommerce plugin. Using an extension that lets you manage the wholesale pricing for your eCommerce store, numerous wholesale roles, and much more, you can manage everything you want to offer to your wholesale customers.
You can establish different discounts for each role with support for both simple and variable items using the wholesale multi-user role creation feature in addition to managing prices across multiple user roles. As per the roles they have been granted, your users will be able to see wholesale costs and discounts.
In order to prevent general customers from accessing the wholesale buy area, the plugin offers the option of password-protecting it. Using user roles, you are able to set up special pricing for wholesale customers.
Additionally, a customized wholesale registration form will also make it simple for customers to sign up for your store.
Key Features
Possibility of establishing minimum order criteria.

assists you in managing every part of your wholesale eCommerce marketplace.

Offer segmented pricing and a private store for wholesale customers.

Make the registration process simple for your customers.

Utilize subscription arrangements to get regular payments from your wholesale customers.

In accordance with your needs, you can set the minimum order quantities.

Limitations on the minimum quantity for adding to cart.

You can allow or prevent coupons from being used by wholesale user roles.

A customer's order can manually have wholesale items added by an administrator.

You can include downloadable documents on the product page.

For each wholesale good, you can show a pricing column.

The "Processing" to "Completed" view order statuses show the progression of the orders.

Reconfigure the attachment URL for the download file.

By defining the minimum cart amount and the cart discount value, the Cart Total Discount can be applied to the Cart total.

Under My Account, retailers can select the "Upgrade to Wholesaler" option.
The annual cost of the plugin is $99.
Conclusion
Each of the above WooCommerce B2B plugins offers incredibly useful functions that can thoroughly enhance the layout, speed, and shopping experience for B2B customers. Additional options for streamlining your WooCommerce B2B workflows are also available for your consideration.
Additionally, our team of WooCommerce development experts can work with you to build and adapt your site to optimize processes further if your business requires a unique solution to enhance its B2B WooCommerce experience with these plugins.